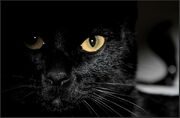 Hi, my name is Loudpelt or Loud for short, and yes I know how weird it seems. So here is a little about myself.
Apperance 
Edit
My pelt is all black.
My eyes are yellow, but in the moonlight they look like they have orange tints to them.
I have one paw that stands out because why'll all of my other paws are black one is a light pink shade.
Clan and Faimly
Edit
I'm a shadowclan warrior which is AWSOME!!!
As you know my name is Loudpelt.
My father is known as Shadowtail.
My mother is known as Silentpelt.
My one and only sister is known as Appleheart.
My one and only brother is known as Slenderfoot
My mate is known as Ashwing.
My first son is known as Firekit.
My daughter is known as Nightkit.
My second son is known as Stormkit
Past Names
Edit
Kit-Loudkit
Apprentice-Loudpaw
Warrior-Loudpelt
Queen-Loudpelt
Apprentices
Edit
Bloompaw(who became Bloomtail and daughter of my older sister Appleheart).
My apprentice right now is Cinderpaw(Timefur's son, he is really...outgoing?).
I was the aprentince of our leader Twighlightstar.
My name is Loudpelt and this is my story. I was born here in shadowclan and everyone in the camp tells me I was a born fighter, but I never believed them. I was always teased by my siblings, Applekit and Slenderkit, even though I wasn't a runt. I would also get beaten at the easiest compititions. I thought I would always be the kit everyone teased, and that I would never even become an apprentice. Lets just say I was and sometimes still am a she-cat that lacks confidence.
On the day I was to become an aprentice I was nearly dieing with fright. My brother and sister went up with a smile of confidence on their faces and were given their names and mentors. When it finally was my turn to go up I tripped on a rock and fell on my face and from the ground I could hear the laughter. I got back up and hurried up to our leader Twighlightstar, she had a smile on her face.
I bent my head down and prepared for the worst, only to hear her say,"Loudkit I have decided to take you on as my apprentice with your new name as Loudpaw." 
It was silent then the cheering began I just walked away stunned thinking why me? I am not special in any way possible. I walked toward the other apprentices, there had been two others Ashpaw and his brother Lightpaw.
"You are so lucky that you got our leader as a mentor."Ashpaw said to me.
"Yeah, lucky."I said to him barely above a whisper. Ashpaw's pelt is a gray with blue tints to it, he riminded me of his mother in some ways like that. I began to walk back to the nursery, but then remembered that I was supposed to sleep in the aprentice den now. So I slowly mad my way over thinking what just happened? I was still in a kind of daze. I tried to avoid the looks me siblings were giving me and I still knew they were thinking the same things as me. I found a small area just big enough for me to fit if I curled up and went into a fitful sleep.
The next day I began my training and I was so scared that I was shaking all the way to the training grounds. Twighlightstar was waiting there for me and as soon as she noticed I was there she motioned for me to follow. I began to follow her and when we got to our destination Twighlightstar said to me"This is where we will meet and practice every day, understood?"
I nodded back at her and began sniffing the area. I saw her watching me and I thought I was doing something wrong so I stopped and said"Sorry".
"What have you to be sorry about, I was just supprised that you knew to sniff the place out."She said back to me. I was so supprised that no words came out of my mouth, so I just stood there looking scared.
"Now go over there and show me what you know."Twighlightstar said and pointed at a patch of dirt.
Community content is available under
CC-BY-SA
unless otherwise noted.