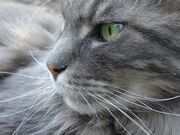 Skystar
is a muscular grey tom, with green eyes 
Skystar

Allegiances
Current Allegiance
Cloudclan
Past Allegiances
(Rouge)
Names
Names

Kit:Cotton Apprentice: Cottonpaw

Warrior: Skycatcher

Deputy: Skycatcher

Leader: Skystar

Family
Mother 

Ruby

Father

Blue

Littermates

Brother: Rocky

Mate

Redfern

Kit(s)

Daughters: Willowkit, and Russetkit

Education
Mentor(s)

Woodfur

Apprentice(s)

Wolfpaw (Wolfpelt) Troutpaw (Troutflash)

Status
Status
Alive, Cloudclan member/leader
Role-Player
Role-Played by
Leopard
InformationEdit
Skystar is leader of Cloudclan, (Comming soon) 
PersonalityEdit
Sky star is fair and courageous, he tries to avoid bloodshedding as much as possible unless it involves protecting his clan.
Skystar was born as a rouge named Cotton, because of his fluffy pelt. His parents were Ruby, and Blue, but he was practically raised by his older brother, Rocky, because only two moons after Cotton was born his parents had been so busy keeping him warm in the winter season, that they forgot about themselves, and froze to death. Rocky taught Cotton everything he needed to know to survive, how to hunt, fight, and stay hidden from predetors. This came in handy, because one day after Cotton had gone hunting he came back to the small den where he and Rocky lived, and found a bloody carcus that used to be his brother. Now six moons old and alone, Cotton stayed in his den feeding off of the rabbit that he caught the day Rocky died, but it soon it became rotton, and he had to go out, so he wouldn't starve. While hunting, a group of three rouges came accross Cotton's path and invited him to live with them, the cat's names were Shard, Spike, and Jet, they were cats who enjoyed fighting and liked watching others suffer, they only took Cotton in because of his muscular body. Once they found out that Cotton, hated bloodshedding for no reason, they cast him out. Cotton wandered for days, and days, finally collapsing on (what he didn't know was) Cloudclan territory. When he woke he was in  the Medicine cat den. The leader Grassstar,a tall orange tabby she-cat let him into the clan and gave him his apprentice name Cottonpaw and mentor Woodfur, the deputy. Because of his jumping skills he earned his warrior name,Skycatcher (plus he no longer had a fluffy pelt :D). Grassstar died of old age so Woodfur became Woodstar, and appointed Skycatcher as deputy. Sadly shortly after Woodstar became leader, he was killed by a fox, and Skywatcher is now Skystar.
Mother: Ruby
Father: Blue
Brother(s): Rocky
Sister(s): None
Son(s): None
Daughter(s): Willowkit, and Russetkit
Community content is available under
CC-BY-SA
unless otherwise noted.